The Talos Principle VR Available NOW on Steam!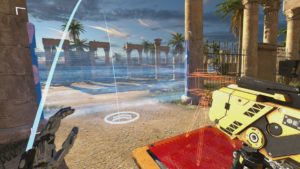 Another week, another release! That's just how we roll. 🙂
We are glad to let you know that The Talos Principle has finally the reality it was always supposed to be a part of,  as we have released the eagerly awaited virtual reality reimagining on Steam for HTC Vive and Oculus Rift.
The Talos Principle VR is priced at $39.99 with automatic 25% off available for all existing owners of The Talos Principle. Along with the content available in the base game, the VR adaptation features the full Road to Gehenna expansion free of charge.
Redesigned from the ground up to provide virtual reality fans with the experience they have come to expect from Croteam, The Talos Principle VR introduces a fresh take to the contradictory world of ancient ruins and advanced technology. With roomscale support, four different movement presets and advanced VR controls, the game is perfectly suited for casual virtual reality gamers and enthusiasts alike.
"The VR reimagining truly is a homecoming moment for The Talos Principle. We have always felt this game was a perfect fit for virtual reality, and it turned out to be true. I can't wait for everyone to jump in and, hopefully, enjoy playing the game as much as we've enjoyed making it," said Croteam's TTPVR project lead and VR enthusiast Mario Kotlar.