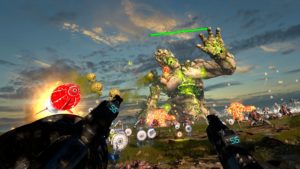 Read the first part of the blog here.
Serious Sam VR: The Last Hope was released just two weeks ago on Steam and Oculus store and quickly became one of the must-have VR titles. While everybody at Croteam VR is thrilled with the reception and continues to work on updates, Davor Hunski remembers there was a time in the development of the game that felt somewhat… less rewarding. 
Back in April, Croteam VR was making great progress. Planets Shaanti and Valtos were already released, each with four different levels and a unique boss fight, and the team just started the work on Arcadia Minor that would bring the total number of planets in the game to five. It was at Reboot Develop conference that the team suffered its greatest setback.