Join us at Reboot Develop 2017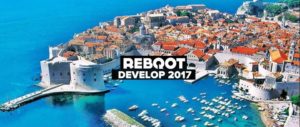 Join us at biggest and craziest game developers conference in Europe, Reboot Develop 2017 in Dubrovnik from 20th – 22nd of April. Reboot Develop starts in two days and we are in final stages of preparation.
More than 100 distinguished lectures will visit Dubrovnik to share their wisdom with interested audience. Our CTO, Alen Ladavac has the honor to open this years conference with his opening keynote Game Developer's Meaning of Life.
Also, Croteam's main composer and CMO Damjan Mravunac will hit the stage with his guitar to sing best songs from Disney's musicals. Or not. Who knows.
Lead Gameplay Programmer, Goran Adrinek is returning once again to Reboot stage this time with a must-hear lecture about Mixed Reality in Serious Sam VR.
Near the poolside area you can catch Reboot panelists Ante Vrdelja and Davor Tomicic discussing serious and less serious topics regarding game marketing and the art of stripping down. This should be fun.
Hopefully some of this intrigued you enough to join us at beautiful seaside Dubrovnik. See you there!